You've probably held a Ka-Bar at one point in you life. At the very least you've probably seen one in a movie or on T.V. It's a good fighting knife, but is it really a good survival knife?
The Ka-Bar is not the best survival knife. It is a fighting knife first adopted by the U.S. Marine Corps in 1942 and is designed for fighting first and utility second. It can be used as a survival knife but it isn't the best option for those looking for a good survival knife.
Let's look at the good things and the bad things that come with the Ka-Bar.
Is The Ka-Bar a Good Survival Knife
Sale
The Ka-Bar was first adopted back in 1942 by the U.S. Marine Corps as their standard-issue fighting and utility knife. It features a 7 inch 1095 carbon steel clip point blade and a leather washer style handle. It also is traditionally issued with a leather sheath.
Don't let the utility designation of the knife fool you into thinking that it's going to be a great survival knife. It's just not designed to specifically be used in that role.
In the case of the Ka-Bar, the utility designation is referring to the fact that it's strong enough to be used to pry open ammo cans and open WWII style rations without breaking. That's not something that you would typically need to do with a survival knife.
To make a long story short, the Ka-Bar is a fighting knife first, a strong utility knife second, and an okay survival knife at a distant third. This is basically the exact opposite of what I look for in a survival knife.
When I'm looking for a survival knife, I want a blade that is designed for bushcrafting and survival tasks like trap making and dressing game first. The ability to be used for some heavier tasks is nice, but it's not required and I don't consider its ability to be used as a fighting knife at all beyond the idea that it's there as a last-ditch weapon if I need it.
Why is the Ka-Bar Not a Good Survival Knife?
There are a few reasons why the Ka-Bar isn't the best survival knife.
The first is the handle. No, I'm not going to say the leather will deteriorate and doesn't make a good handle.
I'd actually argue that the leather does a good job of what it's designed to do and for the time period that it was designed. The problem I have with the handle is that modern synthetic materials are much better suited for making long-lasting handles that grip well and feel good in the hand.
The second problem some people run into with the handle is its oval shape. This is great for a fighting knife in the 1940s, it lets you index the blade to get consistent cuts on your target, but some people find that it's unwieldy when you're using it for other purposes. Again, I like a synthetic handle for the same reasons that I already stated.
The main problem with the Ka-Bar as a survival knife isn't even the handle itself, it's what under the handle that really makes it less than ideal for some survival tasks.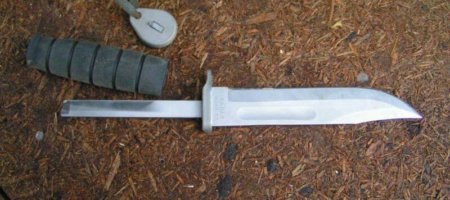 Are Ka-Bar Knives Full Tang?
Ka-Bars are technically full tang knives. This means that the tang extends all the way through the handle and secures into the pommel. But that's not the whole story.
The Ka-Bar uses what is known as a partial tang or narrow tang. This style of tang tapers after the blade. Then, in the case of the Ka-Bar, the leather discs are pressed onto the tang to form the handle.
What most people think when they hear full tang is a tang that is the length and width of the handle, not just the length of the handle. Narrowing the tang creates a weak spot between the blade and the handle that wouldn't be there in a more robust full tang design.
This means that you really shouldn't be doing any heavy wood preparation (like batoning) with a Ka-Bar.
Not being able to baton wood really takes away the advantages that you get from a large survival knife and limits you to the tasks that a smaller knife would probably do better like making feather sticks, prepping game, carving toggles for traps, etc.
Contrary to what a lot of people are saying, the Ka-Bar doesn't have a rat-tail tang. I've never seen any evidence of it personally and looking on Ka-Bar's own site shows that it uses a narrow tang, not a rat-tail tang.
There are plenty of cheap copies out there though and I'm sure some of those have used rat-tail tangs to cut the cost of manufacturing a little.
Alternative Survival Knives to Consider
Sale
Condor Bushlore – If you want a traditional survival knife, the Condor Bushlore is a great option. The blade comes in right around 4 1/2 inches and is made out of satin-finished 1075 carbon steel with a hardwood blade and brass rivets. It's a good looking knife, even though that isn't really much of a consideration in a survival knife.
The steel is a little soft but it sharpens up really easily and has a strong full-tang construction that'll keep it in one piece during heavy use.
Morakniv Garberg Sandvik Stainless Steel Full-Tang Fixed-Blade Survival Knife With Multi-Mount Sheath, 4.3 Inch,black
Full-Tang Knife: Constructed from high-quality, rugged materials, this fixed-blade knife is the most...
Premium Blade: Stays sharp for a long time and features a semi-matte finish; 0.13 inch thick knife...
Symmetrical Handle: Provides a comfortable grip, keeps the knife steady, and allows use of the knife...
Multi-Mount Sheath: MOLLE-compatible mount system allows you to securely fasten your knife to...
Specifications: Blade thickness: 0.13 inches (3.2 mm), blade length: 4.3 inches (109 mm), total...
Morakniv Garberg – For about the same price as a new Ka-Bar you can pick up a Mora Garberg that's specifically designed to be used as a survival knife. It has a 4.7″ blade with a flat spine for throwing sparks off a ferro rod, has a super grippy rubberized handle and is full tang.
The thing that makes the Garberg stand out from other Moras is its full tang. Other Mora knives are made with a rat-tail tang (aka stick tang) and aren't as good for batoning wood.
Sale
Ontario Knife Company Rat 5 – The Rat 5 is another in Ontario Knife Company's great Rat line of knives. The Rat 5 has a 5 inch 1095 carbon steel blade, Micarta handle, a full tang construction and a nylon and Kydex sheath.
The Rat 5 is really a great survival/utility knife. It's a little dull out of the box but sharpens right up.
Ka-Bar Becker BK7 – If you're really in love with the size and shape of the Ka-Bar, then I would suggest trying something like the BK 7. It's designed to basically be the modern equivalent of the WWII Ka-Bar.
It has a nylon sheath, 1095 Cro-Van Steel Blade, a glass fiber filled handle and is a true full tang construction. It does away with all of the weaknesses of the original!
Other options are out there from places like ESEE, Fallkniven, Schrade, and even Gerber.
Related Questions
What Does Ka-Bar Stand for? In November 1942 the 1219C2 combat knife was adopted by the U.S. Marine Corps. KA-BAR is the name of the company that eventually took over the manufacture of that knife. The name Ka-Bar was stamped onto the knife, thus leading to the knife being simply called the Ka-Bar.
What Type of Knife is a Ka-Bar? The Ka-Bar is designed as a fighting/utility knife. Its 7 inch clip point blade gives it plenty of belly for slashing attacks and the clip point is thought to be better for stabbing attacks as it penetrates faster than other designs and can be removed quickly as well.
Conclusion
The Ka-Bar has a lot going for it when it comes to being a good all-around knife, it just isn't all that great as a survival knife. If I was looking for fighting knives I would put the Ka-Bar up near the top of the list but that's not what we're talking about.
If you have a Ka-Bar in a survival situation, it's probably going to do well and last as long as you need it. If you're specifically buying a knife for a survival situation, I'd suggest looking somewhere else.