When you're out in the woods, camping, or stuck in a survival situation, you're going to want to have a survival knife of some kind and an axe, but what if you could only choose one? Which one is a better survival tool?
Ideally, you would have both a survival knife and an axe. If you have to do work that is more delicate and doesn't require a lot of chopping, then a survival knife will be better. If you have to do a lot of chopping and less fine tasks, then an axe will be better.
There's really no way to have a clear cut winner between a survival knife and an axe, but let's look at what makes each one useful and the situations that they excel in.
Which is Better, a Survival Knife or an Axe
Survival knives and axes both have important roles to play in the outdoors. Usually, you would want to have an axe and a survival knife with you if you're camping or in an outdoor survival situation, but which is better if you could only have one?
They both have strengths and weaknesses. The two together complement each other really well, making up for the shortcomings of one another.
Axes
Axes come in a variety of sizes and are designed to be used for everything from woodworking to combat. For our intent here we're going to be discussing those axes that make the most sense to use in an outdoor survival situation…the hatchet.
Hatchets are short handles axes that are designed to be used with one hand. They excel at processing and splitting smaller logs and can fell small trees relatively easy.
How do I choose a good axe?
Choosing a good axe can be tricky if you don't know how to go about it. Follow these steps to pick the best axe for you:
Figure out what the axe will be used for. If you're interested in a survival axe then you're most likely going to be looking for a foresty axe. Forestry axes are designed with a relatively narrow blade that gets wider at the bit. They're built to cut across the grain into the fibers of a tree.
They can also be used to split logs but that's not their primary purpose.
Determine how long the axe should be. Longer axes are better at cutting than axes with a short handle. The longer the handle, the better the axe will penetrate the tree making it take far less time to chop down a tree.
For a survival axe, you're probably going to want to go with a hatchet which is designed for one-handed use, although a short handles forestry axe that allows you to get two hands on the handle isn't out of the question.
Pick the weight of the axe head. A heavier axe head will exert more force on the tree that it's cutting. This means chopping will take less time and less effort in the long run.
Weight needs to be balanced by two things. The size of the person swinging the axe and the amount of weight that you're willing to carry when you're not using the axe.
A long-handled axe with a heavy head may make the most sense for a large person that will be chopping trees all day, but it's less than ideal when you're talking about choosing an axe for survival. In that case, a hatchet or very short forestry axe is probably the ideal size for you.
How long should my axe handle be?
The length of the handle of an axe is usually determined by the activity that the axe is intended for.
Hatchets have short handles meant for you to use with one hand. Their handles are usually from 9 inches to around 20 inches
Pack axes are usually between 20 and 26 inches long. These are about the smallest axes you can comfortably use with two hands.
Splitting axes tend to fall in the 28-31 inch range.
A good rule of thumb for chopping axes is the same length as the user's inseam.
How heavy should my axe head be?
The weight of an axe head really depends on how long the handle of the axe is. The longer the handle, the heavier the head can be and the more power you'll get in your swings.
Hatchets: 14 oz. to 2 lbs
21″ handles: 1.25 lbs to 2.25 lbs
28″ handles: 1.75 lbs to 2.5 lbs
32″ handles: 3 lbs
36″ handles: 3.5 lbs
How sharp should an axe be?
Axes are just like any other cutting tool that you own…they should be as sharp as you can get them.
When an axe isn't sharp, it can bounce off the target or deflect off at an angle, making it more dangerous to use. Keeping it sharp will let you chop more effectively and make better cuts with less of a chance of getting a glancing blow on the piece of wood that you're working on.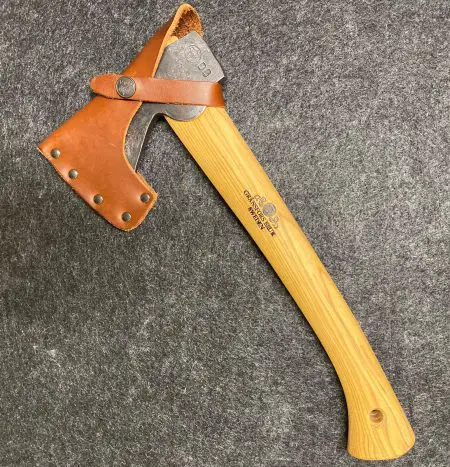 What Is The Best Survival Axe?
Choosing an axe for a survival situation is really going to rely a lot on personal preference and the area that you plan on having to survive in. Choosing an axe for survival in the city is going to be a lot different than choosing an axe for survival in the forest.
You can read our full article on what makes the best survival axe here.
What is the best bushcraft axe?
The best bushcraft axe is hard to choose because there are so many good manufacturers of axes that would suit you well if you were heading out to a campsite or doing some light work in the woods. These axes are usually targetted at doing more work than you'd do with a hatchet but aren't need to do full-time chopping.
For a bushcrafting axe I like a handle between 18 and 21 inches long. This gives a decent balance between size and weight and allows you to use it with two hands pretty easily. Gransfors Bruks, Husqvarna, and Wetterlings all make great axes that will work for you and you can find inexpensive options from Fiskars that make finding a low price axe easy.
The Gransfors Bruks small forest axe is an amazing little axe with a 19″ handle and a 2-pound head designed for light chopping and felling of trees, limbing and fire-making. This is my choice for a small backpacking axe that can chew through more wood than a smaller hatchet.
This is equivalent to the Fiskars X10 that isn't easy to get in the U.S. It has a 17.5″ handle and fits the role of bushcraft axe perfectly. This is the axe that I'd choose if I was looking for a budget option.
What is a good camping axe?
Depending on what you plan to do, the best camping axe can be either large or small. I tend to go with a smaller hatchet when I go camping because I only use it for chopping down mostly dead, small trees and splitting smaller logs for the fire.
If you normally do more than that then a larger axe is going to suit you better, but for general camping uses I recommend a hatchet.
The Gransfors Bruks wildlife hatchet is what I use as my baseline for what a hatchet should be. The 13.5-inch handle fits in almost and pack and it just feels like a larger axe when you're out using it.
The Fiskars X7 is a great little hatchet! This is my budget choice for just about anywhere I may need a hatchet. It's good enough that it can compete with much more expensive hatchets and it's cheap enough that you can buy one for every kit in your line up and not worry about it.
The 14-inch handle is perfect for camping. It's comfortable, fits just about anywhere and is super strong.
Survival Knife
You can get very large survival knives that function a lot like an axe, but then you have more of an axe than a survival knife. For that reason, we're going to look at larger knives that don't get too extreme in size or proportions.
What should I look for in a survival knife?
Look for these things when you're choosing a survival knife:
Full Tang Blade – A full tang is one solid piece of metal that extends from the blade and is the full length and width of the handle. Full tang blades are stronger than knives made in other ways.
Solid Handle – A solid handle that is textured enough to allow you to hold the knife securely when it's wet or slippery, but isn't going to cause your hands to blister when you're forced to use it for a long period of time.
Straight or Partially Serrated Blade – A blade that is straight or partially serrated from 4 to 10 inches long and 1/8 to 1/4 inch thick is what you should be aiming for. There's a lot of variation in that blade size so you should be able to find a knife that's perfect for you somewhere in that variation.
Flat Spine – The last thing you should look for is a blade with a flat spine. You can also grind the spine of a knife flat if you're really in love with a particular knife, but it's easier to just find one that already has a flat spine. This lets you strike a good spark from a ferrocerium rod and also make shavings for tinder without dulling your blade.
How thick should a survival knife be?
You should look for a knife that's ideally between 1/8 and 1/4 inch thick. If you want a knife that's able to chop more like an axe and be super sturdy then go for a blade that's thicker.
Most bushcraft knives are closer to 1/8 inch thick while stong, heavy use knives are more than 1/4 inch wide.
How long should a survival knife's blade be?
Survival knives should have a blade that's between 4 inches and 10 inches in length.
You can go shorter, but you run the risk of not having a blade that's long enough for all of the tasks that you need it for. You can also go longer, but then you're getting into a knife that isn't necessarily as well suited for survival tasks.
I like knives with a shorter blade for bushcraft and survival tasks. I almost never choose a knife larger than 5 inches and I almost never go shorter than 4 inches in a survival knife.
What is the best steel for survival knives?
Survival knives are typically made with carbon steels. Carbon steel is going to be the best for most survival knives.
Carbon steel is very hard and can be sharpened to a very fine, sharp edge. It's also easier to sharpen than stainless steel.
A carbon steel blade needs more attention than a stainless steel blade because it can corrode quickly when it's exposed to the elements.
Stainless steel has the benefit of usually be less expensive than carbon steel and is resistant to stains and corrosion. Its big downfall is that it's more difficult to sharpen and less likely to hold a very sharp edge.
Should a survival knife be serrated?
Serrated blades have a few advantages over straight blades, but they're difficult to sharpen in the field so they aren't very common in survival knives. I wouldn't suggest getting a fully serrated blade as a survival knife because of how difficult it is to sharpen.
If you really like serrated blades, you'd be better served with a partially serrated blade. This gives you a straight blade that you can easily sharpen when it gets dull and the serrated portion that you can use if you need to cut something that's really tough to get through.
I usually choose a straight blade for survival knives so I don't have to deal with the serrations and I never feel like I'm missing out by not having them.
What is the best knife for outdoor survival?
With all of the great knives out there how are you supposed to narrow it down to just one knife that's the best outdoor survival knife? I just don't think it's possible. Instead, I'm going to list a few of my favorites and explain why I like them.
Any of these knives will serve you well in a survival situation or even for just general outdoor use.
The Becker BK2 has a full tang blade that comes in right at 5.25″ long and 1/4″ thick. It's a beast that can take a beating.
A lot of the ESEE knives are very similar to this one. There are tons of different coatings to choose from and the handles come in different colors as well, but you always get a knife that's good in the field and feels like it should cost a lot more than it does.
The ESEE 4P has a 4″ full-tang blade that can do a lot of hard work in hard conditions and not fail you.
The Condor Bushlore is a traditional bushcraft style knife. It has a 3.4″ carbon steel full-tang blade and a hardwood handle with leather sheath. The best part is that it's priced much lower than some other knives that are of equal quality.
What is the Best Survival Tool
This is really what this entire article boils down to…what's the best survival tool? Is it the survival knife or the axe?
The survival knife is a great survival tool. It can do nearly anything that you would want in a survival situation. You can use it to make a fire, build traps, clean game, and on and on, but it just can't chop like an axe unless you get one that's really large.
Large knives like that normally don't chop as well as an axe and fall short on being able to do the tasks that a knife excels at. For this reason, I'm going to say that an axe is the ultimate survival tool.
An axe can do almost anything a knife can do, and it can also chop which a knife really can't.