Free Survival Gear
A lot of people are looking for free survival supplies. Luckily, we can take advantage of free survival gear offers from certain companies.
Where can you find free survival gear? You can find free survival gear from quite a few companies that make more expensive gear. One of the latest marketing techniques that survival gear companies are using is to give away a free item with the hopes that the person who takes advantage of the free offer will become a long-term customer.
Most of the offers below are structured in a similar way. The price you pay covers the shipping for a free piece of gear or training and the company hopes that you'll be impressed enough to continue to buy from them. If you like their products, then feel free to become a customer. If not, at least take advantage of the free survival gear they're offering.
These money-saving offers could even save your life!
Normally the company asks that the customer pays for the shipping costs. These usually run somewhere between $3 and $5.
We'll add more free survival gear to these offers as we find them or more become available.

Free Survival Kits
Paracord Survival Kit – Another "survival grenade". 10 items wrapped in 9 feet of paracord.
Ape Survival Survival Grenade – Typical "survival grenade". Contains 15 items. The best use for these is to simply clip it on a bag until you need it.

Free Survival Tools
Strikepen – LED flashlight, pen, tungsten striker point, and two interchangeable tools.
Survival Card Multi-Tool –  Typical survival card. It contains 11 tools. It also comes with 2 free survival e-books.
Survival Business Card – Typical survival card. Contains 11 tools.
Credit Card Knife – This is an interesting little knife that folds up and hides away in a wallet. It isn't practical for everyday use but it could come through in a pinch.
Rescuecard – One of the better-looking survival cards. It contains 14 tools.
Knife Card – Another folding concealable credit card knife.

Free Flashlights/Lanterns
Hybeam Tactical Flashlight – Another LED flashlight. Aluminum body with a beveled edge for striking. Comes with a lanyard.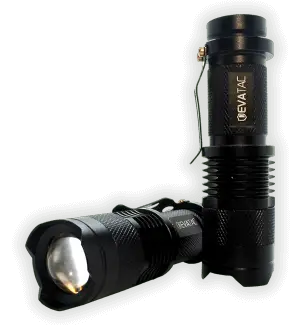 Q5 TacLite – Uses a new Q5 CREE LED emitter to throw light up to 1100 feet. It uses a single AA battery, has an aluminum body and pocket clip. Great as a backup EDC flashlight or to put in the car.
J5 Tactical Flashlight – LED flashlight outputs 250 lumens with aluminum body and pocket clip. Another great back up light for the house or the car.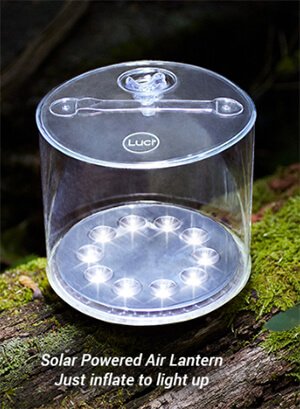 Solar Air Lantern – The Original Solar Air Lantern can provide emergency lighting without relying on batteries, fuel or the need to plug it into the wall for power. Just lay in the sun to charge.
Hybeam Micro Tactical Flashlight – Very small, water-resistant, and easily slips into the pocket. Aluminum body with a pocket clip.

Free Emergency Fire Starters
Everstrkye Match – Contains a ferro rod, wick, and fuel for more than 15,000 strikes. Limit 10 per household.
FireKable Paracord Bracelet – 80 feet of usable cordage with a ferro rod.
Everstryke Waterproof Lighter – Usable for 15,000 strikes. Sealed to prevent leakage of fuel.
Optic Fire Starter – A simple, yet often overlooked fire starter. Focuses the sun to light tinder quickly.

Free Preparedness Books, Videos, and Training
Miscellaneous Free Survival Items

Deck Of Seeds Cards – This is an interesting deck of cards. It has info about different herbs, vegetables, and other food on the back of each card that gives tips on growing and harvesting them.
Valois SSD-90 Tactical Knife Belt – A web belt with a concealed knife in the buckle. Adjustable from 24 to 52 inches.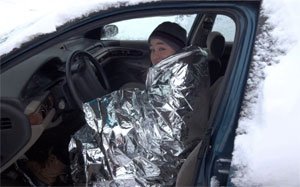 Emergency Survival Blanket – Typical mylar blanket. Good for throwing in a bug out bag, car, boat or backpack.
Free iPac T-Shirt – Free iPac t-shirt with a Glock pistol on the front.
Free American Patriot T-Shirt – "American Patriot" T-shirt.
Armor.1 RFID Blocker – 5 pack of RFID blockers to prevent scanning of credit cards and chipped ID cards.
Conclusion
When you're first getting started, it can be expensive to build survival kits for your family and bug out bags, cars, etc. If you buy some of this free survival gear you can get started with less initial investment and replace them as you purchase better gear at a later date.
The free survival gear that we've listed above should take you well on your way to put together as many survival kits as you may need for very little money. The items aren't military-grade, but they do work and could help you out during a disaster.
Do you know of any good free survival gear that you'd like to share? Let us know in the comments section.