The ER Bar is a common emergency ration that is very similar to other rations found on the market. Each package is designed to be eaten over three days and provides 3600 calories.
ER Bars are rations that provide 3600 calories, are certified by the U.S. Coast Guard, and have a shelf life of 5 years. They're packaged and prepared in a way that makes them ready to eat during an emergency without any preparation.
The big draw of these rations is their shelf life, compact size, and lack of preparation needed.
Who should be Interested in the ER Bar?
Anyone who needs survival food in a compact, the easy-to-use form should look at ER Bars.
They make a great addition to survival kits, bug-out bags, and get-home bags. These are a great choice if you may be in a situation where you need calories without the ability or time to prepare food.
ER Emergency Ration 3600 Calorie Food Bar for Survival Kits and Disaster Preparedness, Single Bar, 1B, White
Each packet contains nine individual, ready-to-eat 410 calorie rations; requires no preparation
Contain no cholesterol, coconut, or nuts which may cause dangerous allergic reactions when medical...
Formulated with an optimal Balance of nutrients - Enriched with FDA recommended vitamins & minerals...
Bars crumble easily and may be mixed with water to form a paste for younger children or adults with...
Durable, zip-close re-sealable packaging; withstands extreme conditions and temperatures (-22F to...
Features
ER Bar emergency food bar contains 3600 calories per package and is divided into 9 – 410 calorie bars. One package is meant to last three days.
Each ration is one solid bar that is scored to break it into nine separate rations. The package is resealable with a ziplock-style fastener to protect unused portions until they're ready to eat.
Lemon-vanilla flavored.
Designed to be eaten without preparation.
High energy/size ratio.
Non-thirst provoking.
Small, compact, and lightweight.
Suitable for storage from -22 degrees F to 149 degrees F.
5-year shelf life.
Ingredients: Enriched Flour, Vegetable Shortening, Sugar, Corn Syrup, Soy Flour, Corn Starch, Potassium Sorbate, Vitamins (Vitamin A, Iron, Vitamin E, Riboflavin, Vitamin B6, Vitamin B12, Pantothenic Acid, Copper, Vitamin C, Vitamin D, Thiamin, Niacin, Folate, Biotin, Iodine, Zinc), Artificial Lemon Flavoring, Artificial Vanilla Flavoring, Artificial Butter Flavoring, Artificial Coloring (Egg Shade).
Weight: 1.3 lb.
Dimensions: 7.75″ x 4.75″ x 1.25″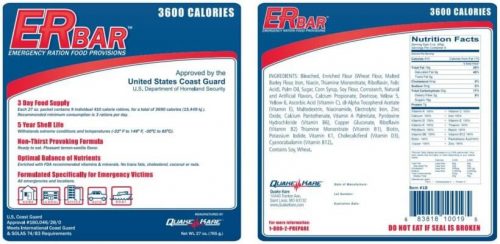 Pros
The pros of the ER Bar are very similar to other emergency rations. They contain a decent amount of calories in a small, compact package you don't need to prepare.
It contains no coconut or nuts to prevent possible allergic reactions. This is unique to the ER Bar and could easily be a selling point for anyone with these allergies.
Cons
The taste is very, very mild. For some, this may be a plus, but I prefer something with a little more flavor.
Having one solid brick inside a ziplock-style bag means that you don't have an extra layer of packaging in case the outer package is compromised.
It also means you must break the individual servings apart as you eat them. It isn't hard to break them apart, so this isn't a deal-breaker. I prefer the individually wrapped bars that some other manufacturers use.
Product
Best Overall Rations
S.O.S. Emergency Food Bars
Best for Limited Ingredient Diets
ER Bar
Preview
Best Overall Rations
Product
S.O.S. Emergency Food Bars
Preview
Preview
Conclusion
The ER Bar is a pretty standard emergency ratio. It has a typical shelf life of 5 years after the manufacture date, comes in a vacuum-sealed mylar bar, and is designed to last for three days.
The only difference between manufacturers is small ingredient changes, slight packaging variations, and different flavors. If you're in the market for an emergency ration, the ER Bar Emergency Food Bar will serve you well.