When you start thinking of handy home supplies, the first thing that comes to mind probably won't be a Wedge-It doorstop. However, when you really start thinking about it, door stops can be a serious benefit when you need to keep those doors wide open.
The Wedge-it Doors Stopper is a plastic door stopper designed for emergency services personnel and first responders. It's designed to be placed in one of three locations on the door to keep it open at a 90-degree angle with no need to hold the door open by hand.
Height: 3.5″
Width: 2.5″
Thickness: 2.13″
How many times have you walked up to your front door, arms loaded with eight, or even more, bags of groceries only to find yourself facing an even greater challenge in having to open the door?
Rather than hurting yourself trying to lift your arm up to turn the knob or using your elbow to push your way in only to watch the door fly open and hit right into your interior wall, having a door stopper can really help prevent these kinds of aggravating situations.
What would happen if you were trying to get out the door in an emergency with your whole family and a bunch of supplies in tow? It could be a disaster.
Why You Need a Wedge-It Door Stopper
Did you know that not all door stoppers are made the same?
In fact, many door stoppers have ended up being more of a hindrance than an advantage, getting in the way or losing their grip right when you're passing through the doorway. However, when you invest in a Wedge-It door stopper, you won't have to worry about facing this problem at all.
These door stops have been designed by emergency professionals who know just what's needed to keep those doors open to the perfect 90-degree angle. Here are just some of the reasons why you should invest in this quality little piece of equipment today.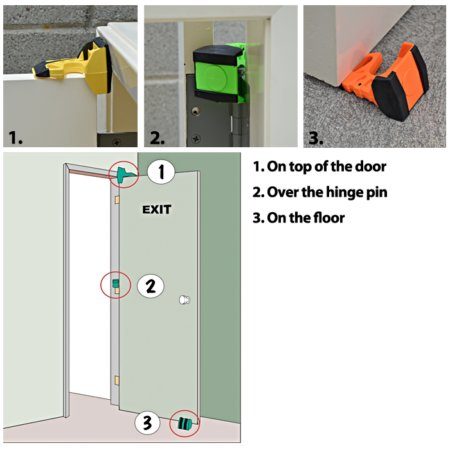 Easy to Place in Three Different Locations
Most door stoppers are designed to sit underneath the door, being slid between it and your flooring. However, if you've just installed a new hardwood or marble flooring, the last thing you want is to worry about scratching it up with a door stopper. This is why the Wedge-It will be the perfect solution for you.
These door stoppers have been specifically designed to easily fit into three different locations. While they can certainly be slid underneath the door just like standard stoppers, they can also be placed in the middle of your door frame over the hinge or even at the top of the door where no one will notice it.
Its unique design means that no matter what angle your door is left at, this stopper will be able to keep it wide open for however long you need it to.
Used by the Experts
There's really no one who understands how important being able to keep a door open can be than emergency responders. In the situations they find themselves dealing with on a daily basis, the time you lose struggling to open a door over and over can be the difference between life and death.
This is why many different professionals, including S.W.A.T, police, ambulance personnel, and even hotel operators, use these specific stoppers at every home they visit to ensure that they are able to do their job to the best of their ability. If they can trust this stopper to save your life, then you can certainly trust it to keep your door open for day to day tasks.
Made in the USA
Are you someone who takes great pride in buying as much as you can from national companies? Then you're in luck.
The Wedge-It door stopper is both designed and manufactured right here in the USA. Not only does this mean that you'll be able to feel great about using it, but you can rest assured knowing that the quality will be of the highest standard, ensuring that it lasts you for years to come.
When it comes to keeping your home safe, the last thing you probably think of is a door stopper. However, these handy little gadgets can actually help guarantee that you can easily get in and out of your home safely and without having to hurt yourself or damage your home trying to finagle it open on a daily basis.
Out of all the door stoppers out there, you won't find anything better than a Wedge-It. Keep these incredible benefits in mind and start looking for your professional-grade door stopper today.
Conclusion
The Wedge-It Door Stopper is a tactical adaptation of the run of the mill doorstop. It's usable in a variety of ways and holds doors securely at a 90-degree angle so your hands can be free while you move through the doorway. It's especially useful for police, firefighters and other first responders.