Bugging out should be a last resort for most people. If you live inside a city, however, you may find yourself wanting to bug out a lot sooner than someone that lives in the suburbs or a more rural area. This is where your bug out bag is going to come into play.
An urban bug out bag is a survival kit designed to help you escape a disaster that is affecting a city. The end goal is to get to an area outside of the city that is safe and less populated.
When you're packing a BOB to get out of an urban area, you should not only be thinking about what to pack, but you also need to try not to attract attention to yourself as best as you can.
Urban Bug Out Bag Gear Selection
The majority of the world lives in cities. If you live in one of these densely populated areas, you need a bug out bag even more than those that live in rural areas. According to UN Water, the urban population is estimated to grow from 3.9 billion people today to 6.3 billion in 2050.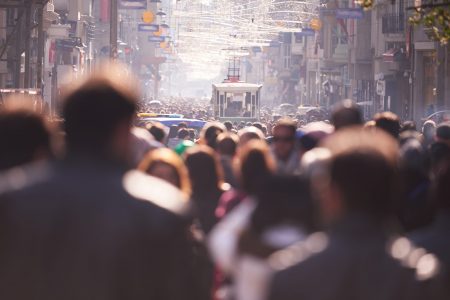 Urban areas are more likely to feel the effects of the following disasters:
Civil unrest like riots
Terror attacks
Cyber-warfare
Food shortages
Water shortages
Pandemics
Economic collapse
That means an urban bug out bag is way more likely to get used than the one I have sitting in my basement. Even if you don't take action and start building a BOB right now, at least learn the concepts that will make it more effective in case you decide to build one later.
Start building your bug out bag by putting together the most important items first. The essential items for a bug out bag are the backpack, water, food, shelter, and first aid kit.
Backpack
For an urban bug out bag, you're going to want to choose a backpack that doesn't draw a lot of attention. I like backpacks that look like they would fit in the gym, or look like someone would carry them to work. This means that you're probably not going to be choosing any kind of super tactical pack or something huge that would fine on the trail but really strange on the subway.
You should also choose dark, subdued colors like black, brown, purple and green. Don't choose anything that overly flashy because that's just going to draw attention to you which is exactly the opposite of what we want.
The Under Armor Hustle 4.0 would be great for an urban bug out bag. It's certainly big enough to get everything you need inside and has plenty of interior pouches to organize everything.
How to Pack Your BOB
To keep your pack as stable as possible, load the heaviest gear next to your back and centered in the middle of the pack like the drawing above shows. Pack your lightest equipment in the bottom of your backpack with the medium weight loaded at the top and outer parts of the bag.
Fill in all empty space and use any internal tie-downs to secure your items in place. This prevents the load from shifting in your pack and it will allow you to fit more items into it.
Women and shorter men often find that carrying heavier weight slightly lower in the pack is more comfortable. Heavy items should still be high in the pack, but feel free to adjust your load for your comfort. This is just a general guide, not a hard and fast requirement.
Water
We all understand how important water is for survival.
I'd suggest having at least two 1 liter containers of water in your BOB. This will allow you to get some distance between you and whatever event made you bug out before you need to stop to get more water.
You can find water in cities in these areas when you're bugging out:
Rainwater (pooled up in the area or collected)
Shops and restaurants (bottled water and other drinks)
Bathrooms (sinks and toilets)
Mechanical rooms (water heaters)
Fountains and water features
Rivers, ponds, and lakes
Any buildings that still have running water
You're also going to need at least one way to filter the water you collect. A LifeStraw will do well and not take up a lot of space in your bag.
You can read about how to choose the best survival water filter here.
Food
You can go for a long time without food, but it's so much better to not have to.
If you pack dehydrated foods or food that needs to be cooked or rehydrated, you're going to have to stop to cook it and use water that you may not have. Pack convenient food that you can eat while you're walking (energy bars, survival bars, etc.).
If you want to pack things like dehydrated backpacking food, you should at least throw some Power Bars in your bag to keep you going initially when you're trying to put space between you and the disaster that made you bug out in the first place.
I typically throw an in my survival kits and call it good. They taste decent, don't weigh a lot and don't need any kind of preparation before you eat them.
Shelter
Shelter is a critical part of any bug out bag. It includes your clothes and anything you bring on top of that to protect you from the elements.
A military-style poncho will usually work pretty well, but a camo poncho may draw too much attention in the city. A dark color tarp or dark color rain gear are good options.
You could even pack large trash bags to use as a makeshift poncho in case you need it.
I don't suggest adding the bulk and weight of a tent or sleeping bag unless you're in a really cold area. You should be able to get by with a good coat and a cover of some kind to keep you dry.
First Aid Kit
My preferred loadout for when I want a good all-around first aid kit and the ability to treat trauma is the Adventure Medical .5 Kit, the Adventure Medical Trauma Pak, and the SWAT-T Tourniquet.
Clothing
You should add a few extra pairs of socks so you can change them out when your feet get wet or overly sweaty. This keeps your feet healthy and minimizes the chance that you're going to end up with potentially very painful sores on your feet. This can slow you down or even completely stop your progress when bugging out.
Other than socks, you may want to put some underwear or a couple of additional warm layers of clothing if you expect it to be cold.
It's always a good idea to have comfortable shoes when you're bugging out. I like to keep comfortable boots on the outside of my bug out bag so I always know that I'll have decent footwear if I have to get out of the house right away.
Light
I like to have a headlamp in one of the outside pockets on my bug out bag. This keeps it in a convenient location and lets you light your way as you're walking without having to hold a flashlight.
Hygiene
Staying clean is important. Even though you should hopefully only have to bug out for a few days until you're someplace safe, it's still a good idea to pack baby wipes, a roll of toilet paper and a toothbrush and toothpaste.
After a day of walking and carrying a pack, it feels good to be able to clean up a little.
Weapons
Getting out of the city early is key if you want to avoid irrational, scared people. Getting ready to bug out once there are mobs in the streets is too late and going to make it much more likely that you'll be forced to defend yourself.
If you have the option to own a firearm, I highly suggest that you get a pistol that you can take with you when bugging out.
In a city, it may be a good idea to conceal your weapon under a coat or shirt. Tensions are already going to be high and you don't want to be stopped by a crowd or the police when they see that you have a pistol.
A rifle is another option, but it's probably going to attract more attention than it's worth. You could always carry a pistol in a holster and keep a rifle in your bug out bag until you're out of the city. This is probably your best bet if you can do it.
Protective Gear
Certain types of disasters that could affect urban areas make it necessary to protect your hands, eyes, and lungs.
Dust, ashes and airborne particles are all very likely in many natural and man-made disasters. Earthquakes can cause buildings to collapse and fires can run rampant in some areas or be started by rioters. You can always try to wrap a dust towel or shemagh around your face but an N95 mask is going to be a lot better.
Consider adding these to your urban bug out bag:
N95 rated dust mask
Mechanix gloves
Clear glasses or goggles
Fire Starting
Being able to start a fire isn't all that important when you're bugging out, but it doesn't mean you should completely dismiss the chance that you may want to get a fire going for some reason.
Throw a Bic lighter or two in a pocket in your bug out bag and you should be good to go.
Cordage
Survival Cord has all the strength of regular 550 cord, but it also has a flammable fire starter core that makes getting a fire going really easy if you have to. You don't need to go with Survival Cord, but I'd at least have 25-50′ of 550 cord in your bag.
You can use 550 cord for all kinds of things from making shelters to repairing your backpack. It's definitely worth taking some with you.
Knife
A quality knife of some kind should be in any survival kit. I like to go with either a strong fixed blade knife or a Leatherman of some kind.
Don't underestimate the usefulness of having a knife. You don't ever realize how much you need one until you forget to take one with you.
Navigation
You should have laminated maps of your area with points of interest marked on it. Make note of places to get water, food, find shelter, etc.
I also like to have a GPS in my bug out bag. A GPS with good maps can be a live saver and make travel a lot easier.
Electronics
You can add as many electronics to your bug out bag as you want, just remember that you're going to need to power those things in order to use them. The good thing is bugging out should only take a few days at most so your batteries probably won't die over that time.
Just pack a couple of extra batteries for your electronics devices and you should be good.
Signaling Devices
I like signal mirrors because they can be seen from long distances and you can use them as a normal mirror if you need one.
Money
In a bug out situation, it's a good bet that society probably has not completely collapsed. This means that your money will still have value and you can potentially use it to buy items that you need along the way.
Bills in small denominations make the most sense so you don't have to overpay for an otherwise inexpensive item.
Identification
When something horrible happens in an urban area, there's a chance that checkpoints may be set up by the police or military. If they're checking IDs it would better for you if you had one, regardless of if you choose to show it to them or not.
You may have to show an ID if you want to use any available emergency services provided by the state or federal government.
I would suggest a state or government-issued picture ID. Anything other than those may not be recognized by whoever is asking for an ID.
How Much Should an Urban BOB Weigh
Like any other bug out bag, an urban BOB should aim for a bag that weighs around 25 lbs. When you start getting heavier than 25 lbs. it can be difficult to keep traveling quickly.
Conclusion
Most people live in urban areas and the number of people living in cities is growing every day. These population centers are the perfect target for terror attacks and more susceptible to manmade disasters like financial crises, civil unrest, and major accidents. Natural disasters also cause the most damage when they strike urban areas than when they hit a rural community.
Due to the number of people that are affected by a disaster, things can go from pretty good to complete chaos almost immediately. That's where an urban bug out bag comes in.
A good urban BOB can help get you safely from inside the city to an urban area that's potentially unaffected by the disaster. If you live inside of a highly-populated area, I hope you consider putting one together. An even better option would be to move from the city before a disaster ever strikes, but I know that's not possible for everyone.