Spyderco Native 5
Spyderco has made a lot of amazing knives, but very few of them have been as popular as their Native line of knives. The Spyderco Native 5 is the 5th generation of the Native line and they've just about perfected it in my opinion.
The Spyderco Native 5 is one of the most popular knives that Spyderco makes. It features a CPM-S30V spearpoint blade and a fiberglass-reinforced-nylon (FRN) handle. It's available in straight, serrated (aka Spyder Edge) and partially serrated blades and a variety of handle styles.
Open Length: 6.95″
Closed Length: 4″
Blade Length: 2.95″
Weight: 2.5 oz.
Overall, I feel great recommending this knife to just about anyone! It fits the hand well, doesn't slip even when it's wet and stays sharp for a long time before you need to touch up the edge.

Thanks for supporting Ready Lifestyle! We participate in the Amazon associates program and other affiliate programs. We earn a small commission on qualifying orders at no expense to you.
Spyderco Native 5
Pros
Blade shape is just about as good as it gets.
Great size for just about any task inside or out.
Razor sharp out of the box.
Super lightweight.
Made in America
Cons
The traditional Spyderco squared off handle design won't make everyone happy.
If you like a large EDC knife, this may take you a little while to get used to.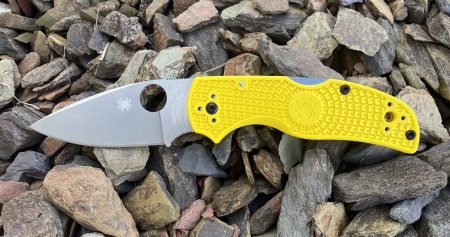 Who should be Interested in the Spyderco Native 5?
The Spyderco Native 5 is ideal for anyone who is looking for an EDC knife to fit into most roles. It's just as suitable for an office environment as it is for the trail or while you're out camping.
The size, blade shape, and handle, as well as the variety of available blade designs, makes is it versatile enough to fit just about any role that you can come up with. You can even get it in Spyderco's Salt finish which is designed to resist corrosion in humid and wet environments.
Features
The Spyderco Native 5 comes in right around 7″ when opened and 4″ while closed. The normal Native 5 model comes with a 2.95″ S30V spearpoint blade, and the Salt version uses LC200N. Both types of steel hold an edge well and are resistant to corrosion, but the blade of the Native 5 Salt takes it even further with its extremely corrosion-resistant design.
The sharpened edge of the blade is 2.42 inches with a finger choil at the base so you can hold it closer to the blade if you need to do some finer work. The blade is 1/8″ thick.
Spyderco says that the blade has a full flat grind, but there is a secondary bevel at the edge so it's not a true full flat grind.
The handle is made of injection-molded fiberglass-reinforced-nylon (FRN) to make it both strong and light. Unlike some of their other knives, there is no steel reinforcement inside to add strength to the handle. They do this to keep the knife as light as possible. The good news is the handle doesn't flex like some other plastic handled knives that aren't reinforced.
There is a decent amount of grip without the handle being too rough. It uses Spyderco's Bi-Directional Texturing which I really like. It provides a firm grip when the knife is wet or when you're pushing or pulling.
Some of the knives from Spyderco have brass inserts that allow the blades to open easier. The Native 5 doesn't. This means that it can be a little stiff opening when you first get one.
Regardless of how you like to carry your knives, the Native 5 has you covered. You can carry tip-up or down on both the left and right sides. The knife comes with the clip installed for tip-up right-handed carry.
I've been a little less than enthusiastic about Spyderco's stock pocket clips in the past. With the Native 5 that really isn't the case. The squared-off back edge of the knife fits well with the pocket clip.
The back lock mechanism of the knife keeps the blade firmly in place. There is a secure click when it opens and almost no movement once it's in place. With the knife open, you can flex the handle and blade if you really try, but it's not a lot.
Spyderco Native 5 Pros
I really like the blade design of the Native 5! It's really similar to the Spyderco Shaman that I carry on a regular basis. It has a sharp point that's both fine and strong at the same time and the cutting edge is perfect for most common uses.
The handle design makes the knife really comfortable after periods of longer use. Being able to choke up on the blade a little is a nice touch because it really helps with any finer detail work that you may want to do.
You can get the Native 5 in a ton of different colors and blade finishes. You may just have to shop around a little to get the exact color/blade combo you want because not all retailers carry all of the different combinations.
There's a Salt version of the Native 5! The Salt version is designed for use around water (specifically saltwater) and humid areas where other types of knives tend to rust and corrode quickly. This is actually the version of the knife that I own. It's the same as the regular Native 5 but the steel is different and it comes with a high visibility handle.
Spyderco is based in Golden, Colorado and their knives are made in the United States. When you buy a Spyderco knife, you're supporting a quality American company and American workers. This probably doesn't matter to a lot of people, but I like to support American companies.
Spyderco Native 5 Cons
My biggest complaint with the Native 5 is how stiff it is when first buy one. It takes quite a bit of use to finally get the knife to feel like it's opening smoothly. Even after it's broken in, it still isn't nearly as smooth as some other Spyderco knives.
With a 2.95″ blade and a 4″ handle it's going to be too small for some people. If you have big hands then you could end up with a pinky hanging off the end of the handle. It's not a deal-breaker at all, but it's something to think about.
I like the light weight of the knife, but some people seem to find the light handle to kind of unsettling. I will admit that it can feel a little weird at first and make you think that it's going to break even though the handle is super strong and doesn't flex at all.

Conclusion
If you're looking for a great all-around knife for every day carry then the Spyderco Native 5 is a great choice.
With a medium-sized blade, a lot of different styles available and a lifetime warranty, it just works really well in a wide range of lifestyles. That's why it's so popular!