The Lighthouse Mini Lantern is a small rechargeable lantern from Goal Zero. It fits in the palm, has many ways to hang it and attach it to almost any surface, and can provide a decent amount of light for 500 hours off of one charge.
Who Should be Interested in the Lighthouse Mini Lantern?
The Goal Zero Lighthouse Mini Lantern is perfect for camping or placement in an emergency kit in case the lights go out. You could put one in a bug-out bag, but there are probably better lights for an application like that.
Features
The Goal Zero Lighthouse Mini Lantern contains features for a small lantern. Most of the lantern is constructed of plastic, and the legs and top hook are metal.
A Goal Zero 18650 Battery provides the lantern with its power. The 3000 mAh provided by the battery isn't the best, but it features overcharge, over-discharge, overheating, and shorting protection.
The Lighthouse can be used in its lowest setting, with half of the lantern lit for up to 500 hours while throwing between 20 and 30 lumens. At max brightness, with one side lit, it throws 210 lumens for 7 or 8 hours on a single charge. If both sides are lit, it will last for about 4 hours on max brightness.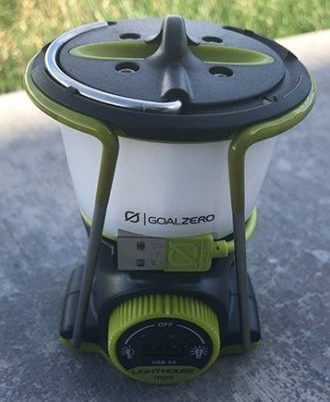 Charging time from a USB source runs around 4 hours from fully discharged to a full charge. If you attach it to a Goal Zero Nomad 7, the battery will charge in 4-8 hours, depending on how much sunlight is on the panel.
Pros
What sets the Goal Zero Lighthouse Mini Lantern apart is its integrated USB cable for charging the battery and the 1 Amp USB port on the front that can use its battery to charge your phone fully.
The integrated USB cable makes it easy to charge from any USB port and ensures you'll never lose the cable.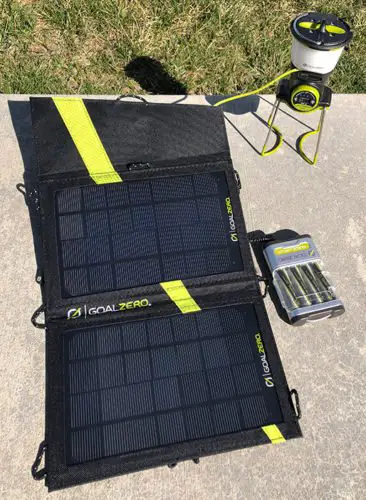 Another great feature of the lantern is its many attachment points. The legs can unfold to give it some height off the surface it's sitting on. You can also use the legs as a handle to carry it like a traditional lantern and shine the light ahead.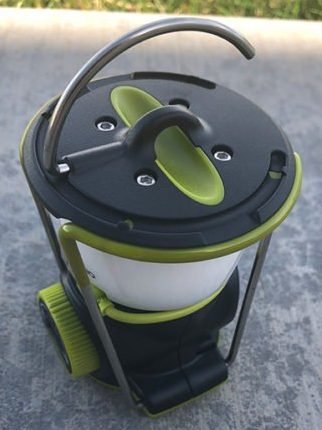 There is also a metal hook and a carabiner slot on the top of the lantern.
The base of the lantern has a threaded hole to allow it to be attached to a tripod and a small but powerful magnet that can support the weight of the lantern at any angle. I have a friend who uses this lantern while working on his car. He sticks it under the hood where ever he needs light.
Cons
The battery has positive and negative connections on both ends. This makes it easy to stick in a device but also makes it proprietary to Goal Zero devices.
With exposed USB ports, it's also not the most protected from the elements.
Conclusion
The Goal Zero Lighthouse Mini Lantern is almost in a class when you add in all the little extras this thing has. Once again, Goal Zero did a great job of providing a multi-function rechargeable device that differentiates itself from its competitors.