The Gerber Crisis Hook Knife is an ultralight hook knife designed from the ground up for emergencies. The blade is protected from making contact with flesh when used to cut clothing, seatbelts, cords, flex-cuffs, or anything else you may need to get through in an emergency.
The Gerber Crisis Hook Knife is a fixed-blade emergency rescue knife. It features 410 Stainless blade steel and a rubberized handle. Its hook blade easily cuts seatbelts, straps, flex cuffs, and cords. The handle has a window breaker and an oxygen tank wrench.
Length: 8.12″
Blade Length: 2.92″
Weight: 3.02 oz.
The opposite end of the knife is designed to function as a glass breaker and can also be used as a lanyard, and there's also an O2 tank wrench incorporated into the knife.
Who Should be Interested in the Gerber Crisis Hook Knife?
Our Gerber Crisis Hook Knife review, showed that it is designed for citizens and first responders who could come in contact with the injured. I like it as an emergency extraction tool for the inside of my vehicle.
Sale
Gerber Gear Crisis Hook Knife [30-000608], Brown
When it comes to the knife you carry, sometimes you want something just a bit extra. The Affinity is...
A simple, straightforward design doesn't mean compromises: the Affinity is built on barrel...
The drop point blade is a common shape for a reason, it's perfect a multitude of utility tasks....
Have you ever struggled to open a knife because something just a tad off? The Affinity addresses...
You're carrying a knife for a reason, so you want to ensure it stays put for the journey. The...
Features
The Gerber Crisis Hook comes in at a light 3.0 oz. Even though its overall length is 8.1″. The "blade" (entire exposed metal portion) is 2.9″.
The handle consists of a textured rubber material that adds to the comfort and feel of the knife in hand. The blade is 420HC stainless steel.
Added features on the knife can be found on the back of the handle in the form of a glass breaker pommel with a lanyard hole. There is also an O2 wrench just forward of the handle in the blade area.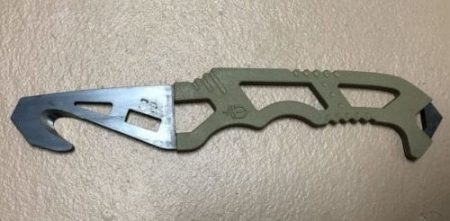 A single bevel cutting edge is protected by a blunt hook to prevent cutting anything that you want to remain in one piece.
Finally, the Gerber Crisis Hook comes with a plastic friction sheath that can attach to MOLLE gear with a plastic strap.
Pros
The larger size of the Gerber Crisis Hook Knife makes it easier to handle than many of the other emergency strap-cutting knives out there. In testing, it did a great job cutting through belts, clothing, wiring, and zip ties. This makes me believe it would have no problem cutting plate carrier straps, seatbelts, boots, and shoelaces.
Anything that may be covering a wound or trapping someone in a vehicle shouldn't be a problem for this knife.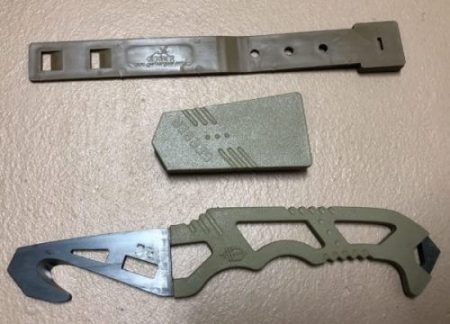 Hanging on to the knife is easy with the Crisis Hook Knife's rubberized handle and overall size. It fits well in hand, especially if you compare it to similar knives.
Cons
The Crisis Hook Knife has a lot going for it, but it also has some things working against it.
It's designed to be attached to a plate carrier or bag with MOLLE straps. Getting the friction sheath attached to anything that doesn't have a MOLLE attachment can be interesting. I'm sure some creative use of zip ties would fix this.
The other problem with the friction sheath is that it holds a little too tight for me. The good thing is it isn't going to fall out, so you can attach the knife with a handle-down attitude and not worry about it coming free.
My last complaint with the knife is that it's a very niche piece of gear, so it's a little too expensive for what it does.
Conclusion
The Gerber Crisis Hook Knife is a great tool if you want something to put on your bag or body armor so you can easily access a wound or egress a vehicle.
It would also be great to mount it near the driver in your vehicle. I have mine tucked away under the dashboard with some high-strength velcro, just in case.