Cold Steel Recon 1 Review
The Cold Steel Recon 1 is a classic Cold Steel design that has been around for many years. Recently it got a little bit of a redesign so we decided to take a closer look at it.
The knife is large enough for hard work, has the same amazing lock up that you'd expect from a Cold Steel folder and is just an all-around workhorse!
Cold Steel Recon 1
Pros
Solid lock-up when open.
Wide range of blade styles.
Designed for heavy work and tactical applications.
Cons
If you're not used to the size it will take you a while to get used to the Recon 1.
Some of the less common blade styles can be difficult to find.
Who should be Interested in the Cold Steel Recon 1?
If you're looking for a knife that can be carried all day long, yet is strong enough and large enough for the toughest of tasks, the is definitely worth checking out!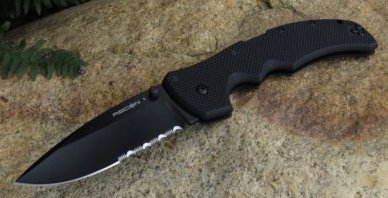 Features
The Recon 1 comes in three blade shapes. A drop point, a tanto, and a spear point.
The blade is now made of S35VN (like a lot of current Cold Steel knives) and is 4″ in length. It features a black DLC coating which reduces friction, increases hardness and keeps corrosion at bay.
The handle is 5 3/8″ long G10 with a lanyard hole at the rear. The pocket clip is ambidextrous and can be attached to either side of the knife.
The blade is 9 3/4″ in overall length when it's opened.
Cold Steel Recon 1 Pros
The Cold Steel Recon 1 features the rock solid lock up that we've come to expect from Cold Steel. This means it isn't going to collapse on you during hard work.
Uses S35VN steel which is nice and hard but doesn't lose out on chip resistance or edge wear.
The fact that it can be found in a drop point, tanto and spear point makes it appealing to a wide range of people. There are also half and fully serrated blades if you look for them.
The knife fits extremely well in the hand and the shape of the handle allows you to get a firm grasp so you don't need to worry about your hand slipping, even if they're wet or muddy.
The blade thickness is perfect for heavy work but isn't so thick that it makes it exceptionally heavy.

Cold Steel Recon 1 Cons
If you're not used to carrying a large blade, the Cold Steel Recon 1 is probably going to feel huge in your pocket until you get used to it.
It can be difficult to locate the exact blade style that you want. You're going to have to shop around if you want one of the less common blade styles.
We normally have more negative things to say about gear, but it's actually really difficult to find anything bad to say about the Recon 1!

Conclusion
The Cold Steel Recon 1 is a great EDC knife for tactical purposes and for anyone that uses their knives for hard work. If you work in an office all day or you typically only do light work with your EDC knife, then it probably makes sense for you to go with something a little smaller.
With a variety of blade styles, the Recon 1 is really well suited to a wide range of applications. If you're looking for a super strong folder, this could be the knife for you.
Did this Cold Steel Recon 1 review help you out? Let us know in the comments section below!