Carrying a survival kit prepares you for every emergency that might arise, even if you're on a cruise ship. Like many travelers, you might be unsure what you're allowed to bring on a cruise ship and what you should pack in your survival kit to ensure you are thoroughly prepared without going overboard.
You can take a survival kit on a cruise ship as long as it doesn't have any prohibited items. As a general rule, any items that could interfere with the safe operation of the cruise ship or cause danger to guests and crew onboard are prohibited.
Whether traveling on land or at sea, emergencies happen. Being prepared can keep minor problems from turning into big ones and ruining an entire trip. Keep reading to find out what you can and cannot pack in your cruise ship survival kit and how to be better prepared for your next trip.
What Items Are NOT Allowed on a Cruise Ship?
Cruise lines do everything they can to ensure the ship feels safe and comfortable for guests throughout the trip. Part of this includes banning certain items for safety and practical reasons.
Typically, weapons, illegal substances, flammables, and any other items deemed unsafe or thought to interfere with the operation of the ship or environment onboard are prohibited.
Whether they are banned for safety reasons or to ensure a comfortable atmosphere for guests and crew, it's a good idea to think twice about what you are packing in your survival kit before going on a cruise.
Prohibited items include but are not limited to:
Firearms and ammunition
Knives, scissors, and other sharp objects
Illegal drugs and substances
Flammable liquids and explosives
Items that produce heat or generate an open flame (candles, hot plates, torch lighters
Martial arts, self-defense, and sports gear
CBD products
Dangerous chemicals
Alcoholic beverages
HAM radios or baby monitors
Perishable food
Bear in mind that each cruise ship will have its own set of rules. Check your cruise line's terms and conditions before packing your survival kit to know you don't have anything prohibited.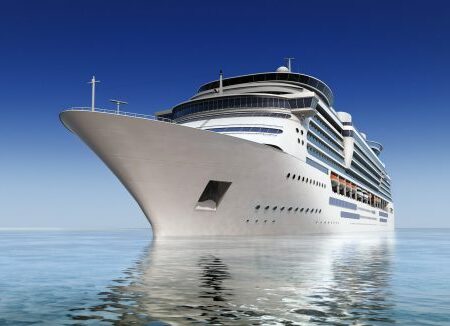 Can I Bring My Swiss Army Knife on a Cruise Ship?
Generally, a Swiss Army knife is a must-have in any survival kit. However, if you're packing for a cruise, it's best to leave it at home.
All knives and scissors are prohibited from being on a cruise ship. There are a select few sharp items that cruise ships do allow, including personal grooming items such as a safety razor for shaving and scissors with blades smaller than four inches long.
If you accidentally bring your Swiss Army knife or pocketknife onboard, it will be confiscated by port security upon being found and returned to you at the end of the trip. If you have shore excursions requiring a blade, typically, a knife will be provided to you.
Instead of bringing your knife, pack a small pair of scissors, tweezers, and some toenail clippers.
How Much Should You Pack in your Cruise Ship Survival Kit?
So now that you know what NOT to bring, let's dive into what items you should include in your cruise ship survival kit and how much is too much.
When deciding what to pack in your survival kit, you need to consider the types of disasters that can happen at sea: disabled ships, weather delays, equipment failure, and illness, to name a few. What you need in a cruise emergency isn't the same as what you need while camping in the desert.
You don't need to bring the kitchen sink. Remember, you must carry what you pack, so don't go overboard. Think about what that cruise ship will already have onboard while packing. All cruise ships have a medical center, a kitchen, and general emergency gear. Stick to the basics and what you need individually, and you should be good to go.
Essential Items to Pack in your Cruise Survival Kit
There are some things you should be sure to have in your cruise ship survival kit without posing a danger to anyone else on board or challenging the ship's safety. Here's a list of things you should include:
Non-perishable snacks: Extra food is a must-have in any emergency. Pack non-perishable, calorie-dense snacks such as nuts and energy bars.
Reusable water bottle: Bottled water is typically free on most cruise ships, but having extra water never hurts. A full, reusable water bottle can ensure you have access to some water if the water system is disabled.
Sunscreen: It's easy to get burnt out at sea, and you'll more than likely use more sunscreen than you think. Pack an extra bottle in your emergency kit if your time on the ship gets extended.
Hand Sanitizer/disinfecting wipes: We are all well aware of how vital sanitation is in close quarters. Keeping your hands and surfaces clean can help avoid picking up viruses and nasty germs.
Backup power: In an emergency, communications and the power supply may be limited. A backup power supply can extend the battery life of your cellphone so that you don't go without it.
Basic over-the-counter medication and first-aid supplies: While you can find these in the medical center, it's good to keep a supply of your own for minor emergencies.
Flashlight: Losing power on a cruise ship can be disorienting. Make sure to pack a flashlight or glow sticks, so you aren't trying to wobble around in the dark.
Whistle: An emergency whistle can help attract rescues to your location if you need help. It's also a great way to get people's attention in chaotic situations.
Waste disposal bags: If the toilets stop working onboard (which can happen), having waste disposal bags on hand can make that experience a bit less terrible.
Disposable masks: Whether It's covid, flu, or the common cold, catching a virus onboard is a quick way to ruin a trip. If you catch wind of something going around the ship, having a mask may give you an extra layer of protection.
Conclusion
While cruise lines do their best to ensure the safety of guests and crew on board, it doesn't hurt to plan for the worst. Being adequately prepared for an emergency on a cruise ship can save you some worry and increase your survivability in the case of an emergency.
You can and should bring a survival kit on a cruise ship. Remember, you don't need to overpack. Though there are some restrictions on what you can bring, packing the basics can keep you out of dire straits if the situation arises.