No matter where you plan to go boating, you need an emergency kit for any predicaments you may get into. Whether you are going for a weekend float on the lake or a grand voyage, having the right supplies will keep any issues from becoming a nightmare.
Your boat emergency kit should include the following:
Survival Gear
Signaling Devices
First Aid Supplies
However, this is just the tip of the iceberg—figurately speaking. A well-built boat emergency kit will have supplies that will hopefully never be needed but are there just in case.
There are some essentials that every boater should have, but there is a lot of room to personalize your kit for your specific needs. Many of the items you pack will depend on where and when you are going on your excursion.
Safety Regulations for Boating
Federal regulations are in place to help ensure all boaters have a safe and fun experience. The US Coast Guard and Homeland Security have created a pamphlet with boating regulations, checklists, and safety tips.
The items listed below are required to have onboard recreational boats but should be part of your emergency kit anyway. The exact requirements depend on the size and type of vessel you have and the time of day you are on the water, so look over the regulations to be sure you comply.
Flotation Devices
It is required to have one life jacket for each person on board all recreational boats. You need a throwable flotation device if your boat is over 16 feet.
Picking out and buying a life jacket can be a headache. There are standard ones, inflatable ones, and even hybrids. Not only that, but having a life jacket on board isn't enough. Each person needs to have a life jacket that fits properly. It's the right fit that makes a life jacket life-saving.
REI's guide, How to Choose Life Jackets (PDF), can help you decide on the best type of life jacket for your recreation plans and determine if you have the correct size.
Visual Distress Signals (VDS)
All recreational vessels under 16 feet need to have night signaling devices. For larger boats, day signaling devices are also required.
Visual Distress Signals come in different types, including:
Pyrotechnic: red flares, smoke flares, meteor flares
Non-Pyrotechnic: flags, flashlights
When purchasing a VDS, make sure it is US Coast Guard-approved.
Sound Distress Signal
Your visual signals might not be seen if you are in distress at night or in foul weather. Many things can be used to make noise, such as pots and pans, but it is required to have an actual sound-producing device. A bell, whistle, or air horn is sufficient for most recreational boats.
Fire Extinguisher
Sale
First Alert Fire Extinguisher | Marine Fire Extinguisher, White, FE1A10GR, 1-Pack
First Alert's Marine1 Fire Extinguisher is UL rated 1-A: 10-B: C; it features durable all-metal...
Multipurpose fire extinguisher fights wood, paper, trash, plastics, gasoline, oil, and...
Uses monoammonium phosphate extinguishing agent; rechargeable by certified professionals after use
Secure extinguisher mount, bracket, and strap are included; extinguisher is U. S. Coast...
Metal pull pin with a safety seal to help prevent accidental discharge and tampering;...
On boats where a fire might occur, it is required to have a minimum of one B-1 marine fire extinguisher. For larger vessels, multiple fire extinguishers may be required.
There are different classifications of fires, and not all fire extinguishers put out every type of fire. When you purchase your extinguisher, check the label to know which type of fire it can be used on. Some only put out one kind, while others can be used on several types.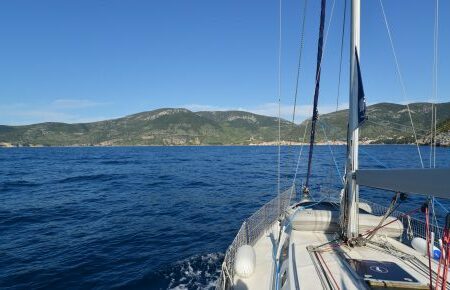 Building Your Kit
Building your boat emergency kit is wise. Already assembled kits can have lower quality items, things you don't know how to use, and stuff you don't need. By building your kit, you become more conscious of possible situations, such as a sudden storm, a galley fire, or the need to abandon a ship. Knowing different types of emergencies will help you decide what to pack in your kit.
Every time you plan a boating excursion, it is best that you reassess your emergency kit. A good emergency kit is dynamic and is prepared specifically for each trip. What you pack in your emergency kit for a fishing trip to Alaska will probably be different than what you bring for a relaxing weekend on the lake.
The following are a few essential items you should have in your boat emergency kit, no matter where or when you plan on hitting the water:
Waterproof Container
For an emergency kit to be effective, everything must be together in one place. A waterproof bag or box makes storage easier and keeps everything dry. Purchasing one in a bright color is an excellent option if you need to locate your kit in the dark.
You might not always keep some items in your emergency kit, such as binoculars. If you don't keep everything in one container, know where it is in case you need it ASAP.
First Aid Kit
A first aid kit is a must-have when boating, but it's not enough to have one. First aid materials are useless unless you know how to use them. Consider taking a first aid and CPR class to know what to do in an emergency. American Red Cross offers courses on first aid basics, CPR, water safety, and more.
Purchasing an already assembled first aid kit is an excellent place to start, but it may be necessary to personalize it. Some things to consider adding to preassembled kits include:
Prescription Medications
Relief for Motion Sickness
Sunscreen
Aloe Vera
VHF Radio
Very high frequency (VHF) radios are an essential item on board. If an emergency occurs, these radios can communicate between your boat and other boats or you and the shore. Channel 16 on a VHF radio is designated as an international distress frequency. The US Coast Guard provides information on proper VHF radio procedures so that you can effectively get help.
VHF radios can have a fixed mount or can be portable. The benefits of fixed support are that they have a more reliable power source and higher transmission power. A portable radio can be carried around, even if you need to evacuate the boat.
A VHF radio should be sufficient for most recreational boaters. If you plan on going further than 20 miles from a USCG station, then a VHF radio will not be enough, and you should consider purchasing a satellite telephone.
Flashlight and Batteries
A flashlight is handing for both emergencies and non-emergencies. It can be used for simple things like finding a dropped key or as a signaling tool. Flashlights and boats don't always get along, though. Whether it's corrosion from salty marine weather, water in general, or the impact of rolling around, flashlights don't always last long on boats.
Finding a flashlight that will last and work for you is essential. If you plan on only taking short day trips, you probably don't need to purchase the brightest flashlight out there, but you'll still run into times when you want to have one around.
Another thing to consider is batteries. If your flashlight requires batteries, keeping extras on hand is a must.
Navigation Tools
Navigating a boat on the water is not the same as navigating a car on land. While there are many great electronic navigation systems, having an analog system as backup is essential when your electronics stop working. An analog navigation system includes:
A compass – a tool that shows the direction you are heading
Charts – charts are maps of waterways and have unique markings for boaters
Parallel ruler – a device used with a compass and chart to determine which direction to go
Divider – a tool to measure the distance between two points
If you are unfamiliar with water navigation or need a refresher, the BoatUS Foundation and USCG offer classes such as How to Use GPS and Modern Marine Navigation.
NOAA provides a list of NOAA-certified companies to sell paper navigation charts.
Manual Bilge Pump and Bailing Device
If your boat starts taking on water, you will want something to bail it out. Your vessel may or may not have an electric bilge pump, but even if it does, a manual device is good to have on hand.
Depending on the size of your boat, you can use different things to get the job done. A plastic milk jug cut into a scoop may work for smaller crafts. 5-gallon buckets are another option. A manual bilge pump is probably best if you have a larger boat.
Tool Kit
What is considered essential versus over the top is hotly debated regarding keeping tools on your boat. If you have high confidence in your fix-it ability, then having a wider variety of tools may be great. On the other hand, if you can't tell the difference between a flathead and a Phillips, then less is the way to go.
It is an excellent option to start with a small preassembled kit and add to it.
Mirror
In an emergency, a mirror is quite valuable. It can be used to locate a dropped screw or signal for help. You can purchase a signal mirror, but any mirror will do in a pinch. Many compasses have built-in signal mirrors.
Binoculars
Binoculars are great to have on board, even if they don't live in your emergency kit. While they are helpful for wildlife watching and stargazing, they can be used in an emergency to spot land or signal to a nearby vessel.
Gear
When you are out on the water, the weather can change fast. Think about keeping some gear in your emergency kit for an unexpected downpour, low temperatures, or even a surprising amount of sunshine. You can buy new gear for your boat emergency kit, but if you have extra stuff around the house, that works too. Consider keeping the following in your kit:
Raincoat or Poncho
Fleece Jacket
Hat
Sunglasses
Food
Many people overlook packing emergency food in their kit. Even if you brought sandwiches for lunch and snacks for the afternoon, your emergency kit should include food for an extra day or two when your trip unexpectedly lasts.
Think about how many people will be on the boat and pack enough food for several days. Reading the food labels will give you an idea of how many calories you are packing.
Remember, this food is for emergencies and doesn't need to be gourmet. You want to pack the most calories into the smallest size; the goal is survival, not satisfaction. Some great options are freeze-dried meals, high-calorie energy bars, or jerky.
Water
A water filtration or desalination device is one of the most critical items in your emergency kit. If you are stranded in the ocean with the sun beating down and have no way to drink water, nothing else in your emergency kit will matter.
You can keep bottled water onboard, but over time, chemicals from the plastic may leach into the water, you might drink it and forget to replace it, or it could spring a leak. Instead of packing water, think about packing a water system. A simple outdoor recreation water filter can be used if you are boating on a lake or river, but if you are ever boating in a marine environment, you need a desalination system.
Comfort Items
A boat emergency can be a traumatizing event for anyone. While comfort items are not vital to surviving a crisis, they can benefit your mental well-being. Consider packing one or more of the following, especially if you will be with children:
Family Photo
Small Stuffed Animal
Favorite Candy
Paper and Pen
Deck of Cards
Shopping List
A boat emergency kit is meant to help you survive the unimaginable; expect the best, but be prepared for the worst. Below is an example shopping list that will work for most boating adventures, but remember that your emergency kit should be dynamic, and looking through it before each outing is a smart move.
Be Prepared for Emergencies
Owning a boat comes with responsibility. Educating yourself can help keep everyone on your boat safe and lower the chance of an emergency ever occurring. Several organizations provide information, educational resources, and more for boaters. These organizations include:
The US Coast Guard's Boating Safety Mobile App is a great tool. The app is a hub for state information, safety checklists, and calling features to report pollution and suspicious activity.
Conclusion
An emergency kit on your boat ensures safety and preparedness in unforeseen circumstances. The kit should include survival gear, signaling devices, first aid supplies, and other essential items specific to the boater's needs and the location of the excursion.
It is also important to comply with federal regulations such as flotation devices, visual and sound distress signals, and fire extinguishers. Building your emergency kit allows for personalized items and knowledge of potential emergencies, and it should be reassessed before each boating excursion. It's better to be safe than sorry; having an emergency kit on board your boat can ensure a safe and enjoyable experience for all.